COURSE SYLLABUS
Course Name
Investment Theory and Practice in Global Currency Markets
Faculty Information
Instructor:
Josh Martinez
Format:
Online, will be posted in the E-Trader Companion portal
Email:
jsmartinez@markettraders.com
Phone Number:
407.740.0900
Toll-Free Number:
800.866.7431
Welcome to the Course
I would like to take the opportunity to welcome each and every student to our Investment Theory and Practice in Global Currency Markets course. I believe you will find it very rewarding and beneficial regardless of your career goals as you learn and acquire new skills that you will be able to apply and benefit from over the course of your life time. At the end of this course you will be thoroughly prepared to enter and pursue an exciting career trading in the currency markets. We are committed to providing the highest level and quality of education and support. Challenge yourself and enjoy every aspect this course has to offer as you build your skills as a currency trader.
Required Materials
Martinez, Jared. The 10 Essentials of FOREX Trading. New York: McGraw-Hill, 2007.
Martinez, Jared. Traders Workbook and Rulebook. Lake Mary: MTI Publishing, 2007.
MTI Charting Software and Trading Demo Account.
Course Description
This course prepares students to effectively analyze, assess, and trade foreign currency in the FOREX spot market. Topics presented during the course include: models of success and historical evidence on buying and selling patterns, how to understand volatility of return on the foreign currency exchange, the price behavior of currency, and technical tools for analysis including Japanese Candlesticks and Fibonacci numbers. Sound equity management will be reinforced throughout the course. Students will learn how to determine market movements through the correct use of various interpretive and analytical exercises including the interpretation of support and resistance levels, currency trend analysis on short and long term time frames, and the use of various technical indicators such as Fibonacci numbers. Students will also explore and use the various trading platforms in use on the spot market today and will complete a project in which they will maintain and trade a practice account over the length of this course and track their performance, trading behaviors, and motivating factors behind their trading actions. Based on multiple technical and fundamental trading strategies, students will develop a quality, personalized trading methodology that is rooted in the practicalities of our times.
Course Objectives :
Upon successful completion of the course, the student will be able to:
Understand the international currency markets, currency pairs, how foreign currency trades, the global trading centers, and the global trading day.
Identify and execute technical trading strategies based on the formation of various Japanese candlestick formations.
Interpret the meaning of economic and technical indicators on multiple timeframes.
Calculate the levels of support and resistance in a currency pair to manage risk and maximize profit.
Assess and implement effective equity management strategies.
Interpret currency and economic trends that impact price and effectively draw trend lines and counter trend lines on a chart.
Understand buy and sell zones for sound equity management and to maximize profit.
Identify currency accumulation, consolidation, and sideways movement as risk and identifying opportunities.
Understand the significance of Fibonacci numbers and apply those numbers in a trading strategy.
Understand the Alphabetic boundaries of a currency and their movements in currency valuation over time to assist in predicting price movements.
Execute trades utilizing technical analysis with Japanese candlestick formations, Alphabetics, the Up-Down Gartley strategy, Fibonacci numbers, Pennant formations, the King's Crown, and harmonic beat trading strategies.
Tentative Schedule
| | |
| --- | --- |
| Week / Topic | Assignments & Assessments |
| Week1: Intro to FOREX | Read Ch. 1-2; Review Online Lecture & Workbook Ch. 1, Participate in Forum, Essay, and Quiz |
| Week 2: Trading Japanese Candlesticks | Read Ch. 4, Review Online Lecture & Workbook Ch. 2, Participate in Forum, and Complete Quiz |
| Week3: Time Frames and Indicators | Read Ch. 3; Review Online Lecture & Workbook Ch. 3, Participate in Forum and Complete Quiz |
| Week 4: Support and Resistance | Read Ch. 5, Review Online Lecture & Workbook Ch. 4, Participate in Forum, and Complete Quiz |
| Week 5: Equity Management | Read Ch. 12, Review Online Lecture & Workbook Ch. 5, Participate in Forum, Essay, and Complete Quiz |
| Week 6: Trend Lines & Trading Trends | Read Ch. 6, Review Online Lecture & Workbook Ch. 6, Participate in Forum, and Complete Quiz |
| Week 7: Buy and Sell Zones | Read Ch. 7, Review Online Lecture & Workbook Ch. 7, Trade Journal Submission, Participate in Forum, and complete Quiz |
| Week 8: Trading Consolidation | Read Ch. 11, Review Online Lecture & Workbook Ch. 8, Trade Journal Submission, Participate in Forum, Complete Quiz, and Midterm Exam |
| Week 9: Fibonacci Numbers | Review Ch. 8-9, Review Online Lecture & Workbook Ch 9, Trade Journal Submission, Participate in Forum, Complete Quiz. |
| Week 10: Fibonacci Convergences | Review Online Lecture & Workbook Ch 11, Trade Journal Submission, Participate in Forum, Complete Quiz. |
| Week 11: Trading the Gartley | Read Ch. 10, Review Online Lecture & Workbook Ch 11, Trade Journal Submission, Participate in Forum, Complete Quiz. |
| Week 12: Trading Pennants | Review Online Lecture & Workbook Ch 12, Trade Journal Submission, Participate in Forum, Complete Quiz. |
| Week 13: Trading Harmonic Vibrations | Review Online Lecture & Workbook Ch 13, Trade Journal Submission, Participate in Forum, Complete Quiz. |
| Week 14: The Reversal or King's Crown | Read Ch. 13, Review Online Lecture & Workbook Ch 14, Trade Journal Submission, Participate in Forum, Complete Quiz. |
| Week 15: Analyzing the Market | Review Online Lecture & Workbook Ch 15, Trade Journal Submission, Submit Essay, Present Trader Portfolio, Participate in Forum, Complete Quiz. |
| Week 16: Final Review & Final Exam | Take the Final Exam |
General Course Requirements and Information
Utilizing the Online Courseware and Learning Tools. To ensure your success in this course, you are required to utilize various digital media tools and online resources. All students must become familiar with these tools. A description of these tools are listed below:

Ultimate Trader's Package Lectures: Provides multi-media lectures and workbook. This is a core feature of the course.
E-Trader Companion: This learning management system is where you will submit all of your assignments including the quizzes, forums, and drop box for all assignments. It is the online 'classroom' that you will learn with your peers and instructor.
MTI Mentorship Room: This is not a required component of the course, but is a portal where twice a week you can enhance your learning from MTI's expert instructors as they analyze live market conditions, utilize many of the strategies you learn in the course materials, give trade recommendations, and place live trades.

Technical Support. If you have questions or problems with any of the online tools and resources, please contact:
800-866-7431.
Withdraw Date. Students who choose to withdraw from the course may do so under the following withdrawal/refund conditions. Keep in mind all students who withdrawal must pay a $100.00 USD registration fee for withdrawing from the course. The refund schedule is:

Week 1: 100% Refund
Week 2: 75% Refund
Week 3: 50% Refund
Week 4: No refund

Class Calendar Policy. No late work will be accepted. All assigned work must be completed in the week it was assigned by 11:59, pm EST on Sunday. As this course is open 24-7, each calendar week begins on Monday and ends on Sunday. This should provide all students with ample time to complete their work.
Exam Policy. All exams and assignments must be submitted online through the eTrader Companion Portal.
Attendance Policy. Students must log-in two days per week to meet the minimum attendance standard. Students who fail to meet this standard in 5 of the 16 weeks of the term will be administratively dropped from the course.
Class Conduct Policy. As this is an online class, proper communications etiquette is expected at all times. Emails, discussions, and any communication (even informal ones) must be in a proper grammatically correct format. Although, abbreviations are sometimes acceptable outside of academic settings, using 'u' and '4' instead of 'you' and 'for' are always unacceptable in an online classroom. As working professionals it is expected that you can and will communicate with proper usage at all times. Also, please be sure to use your spell and grammar check prior to submitting assignments and forum posts.
Assigned Readings. Students are expected to read each assigned chapter or resource and complete any and all assigned homework. To gain the most benefit from this course, students are expected to contribute to a healthy exchange of ideas in the discussion areas. To achieve this, students are to complete the readings and assignments for each module.
Grading Policy
The following grading scale and weighting of the course are standardized across the Market Trader's Institute curriculum and are rarely changed. However, the instructor does reserve the right to alter the particular assessments and their weighting based on the instructor's need to meet the stated learning outcomes, improve student performance, and to maximize learning. Any changes to the grading policy during the course will be clearly explained to the class prior to the change taking effect.
Letter Grade Scale
| | |
| --- | --- |
| % Attainment | Letter Grade |
| 90-100% | A |
| 80-89% | B |
| 70-79% | C |
| 60-69% | D |
| 50-59% | F |
**
A Passing score for MTI is 70% proficiency
Summary of Assignments and Weighting for the Course
| | | | | |
| --- | --- | --- | --- | --- |
| Assignment | Due Date | PTS Per Assignment | PTS Total | % Weighting |
| Weekly Quiz | Ongoing (15 Total) | 10 | 150 | 21% |
| Discussion Form | Ongoing (15 Total) | 10 | 150 | 21% |
| Trade Journals | Weeks 7-15 (9 Total) | 10 | 90 | 13% |
| Personal Essays | Weeks 1,5 and 15 (3 Total) | 20 | 60 | 9% |
| Midterm Exam | Weeks 8 | 100 | 100 | 14% |
| Trader Portfolio | Weeks 15 | 50 | 50 | 8% |
| Final Exam | Weeks 16 | 100 | 100 | 14% |
| Totals | | | 700 | 100% |
Description of Assignments
Quizzes: Each quiz is worth 10 points. You are allowed one attempt only, and a time limit is imposed. For each chapter you will take a reading quiz. These quizzes are designed to encourage you to read and take notes on material in your text book and workbook. Academic integrity policies will be strictly enforced. You have 20 minutes to complete each quiz.
Discussion Forums : After establishing your web access and e-mail information, every student will then be ready to participate in our weekly online discussions. This forum requires every student to respond directly to that week's discussion topics. Also, by responding to colleague's responses, information sharing will help everyone learn more from varying views and perspectives. Each "online discussion" is worth 10 points. All topic specific responses are expected to stay on point and encouraged to promote meaningful thought for course value.
Trade Journals: Student entries are to contain: commentary, observations, and opinions specifically related to that week's trading assignment and experience. Feedback is essential and advances every student's progress as they gain and learn valuable trading experience. A common trade journal entry example might include: "I captured 20 pips today on my demo account. The Euro/USD currency pair was a very good choice and positive trading experience for me because..." Each Trade Journal is worth 10 points each and there are 9 in total from weeks 7-15.
Personal Essays: There will be 3 "essays" worth 20 points each. These essays are broken out over weeks 1, 5, and 15 and are designed to let each student develop and produce a written narrative at each stage of that period's learning experience. Details are provided in the E-Trader Companion website.
Midterm Exam: During week 8 there will be an online exam that will cover "workbook lessons" 1-8 and "textbook lessons" 1, 2, 3, 4, 5, 6, 7-11, & 12. The exam covers all material from the first half of the course. For the midterm exam every student will have 2 hours to complete the assignment. The exam will consist of 100, true/false and multiple choice questions similar to those found in the weekly quizzes. The midterm exam is worth 100 points.
Trader Portfolio: This portfolio, which is worth 50 points, is a collection of student work showcasing new competencies learned over the entire course. It serves to demonstrate your understanding in executing important trading strategies in technical analysis, as well as understanding many of the key learning objectives of the course. The portfolio will contain things such as drawing support and resistance levels, identifying A-B-C-D boundaries, using the Fibonacci tools, your completion and analysis of round trip trades, and identifying the Kings Crown. Specific details of how the portfolio will be presented and the specific details to be included will be provided by the instructor inside the E-Trader Companion portal.
Final Exam: During week 16 there will be a comprehensive online Final Exam. This Final Exam will cover all chapters 1-13 and workbook chapter 1-15 in their entirety. The Final Exam will consist of 100 true/false and multiple choice questions similar to the weekly quizzes. Every student will have 2 hours to complete this assignment. The Final exam is worth 100 points.
Academic Integrity Statement
All students are responsible for adhering to Market Trader Institute's Academic Integrity Policy. Dishonest and unethical behavior in your class work will not be tolerated. In communication especially, you must be careful not to plagiarize the work of others. As a professional development course that is teaching you the skills and ethics to become a professional currency trader, maintaining academic integrity is of the utmost importance. Evidence of cheating, plagiarism, copying directly from someone else's work, or using someone else's ideas as your own without using the proper notation will result in an F for the assignment, and it will be reported and filed in your academic record. The second offense may result in removal and failure of the class.
Disability Policy
If you wish to request accommodations as a student with a documented disability, please contact Mr. Josh Martinez at the phone number and e-mail listed at the top of this syllabus. Market Trader's Institute is committed to assisting you with your request. After consultation with Mr. Martinez, it will be determined if and what type of accommodation can be made to support you in your educational endeavors at Market Traders Institute. Market Traders Institute is firmly committed to assisting all students to complete the course of study whenever possible.
Student Expectations
Each student's behavior online is expected to contribute to a positive learning/teaching environment, respecting the rights of others and their opportunity to learn. No student has the right to interfere with the teaching/learning process, including the posting of inappropriate materials on chat rooms, Web pages, or in the discussion forums. The instructor has the authority to ask a disruptive student to leave the classroom, chat sessions, forums, or delete posts or materials and to file disciplinary action if disruptive behavior continues. The practices of courtesy and respect that apply in on campus classrooms also apply online. Any discriminatory, derogatory, or inappropriate comments are unacceptable and subject to the same disciplinary action applied in courses offered in a traditional college or learning environment.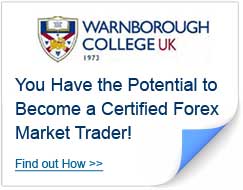 What is the Forex ?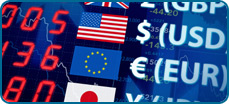 The word 'FOREX' (or FX) refers to the foreign exchange market. This is the market involved in trading currencies between countries. When visiting another country, you might exchange your currency for the local currency.